Looking for the most up-to-date RAID: Shadow Legends Tier List? This is the best one you could ever find!
On this page, you will find a rough idea regarding the best champions in the game, as well as the tier list for each faction and specific game-modes in RAID!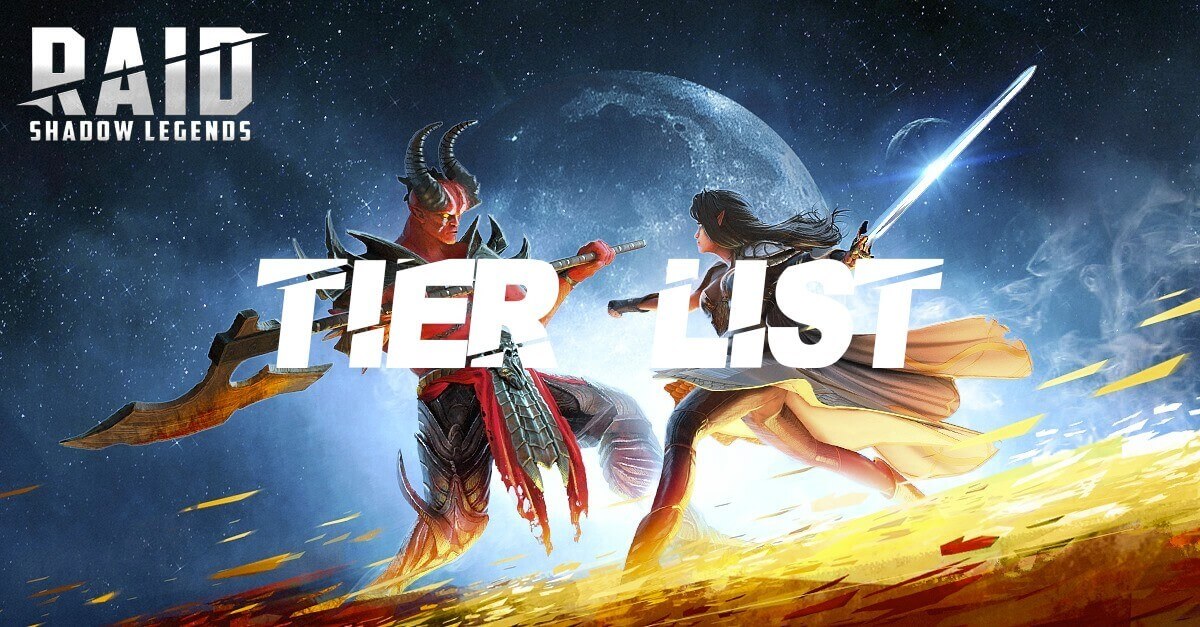 RAID: Shadow Legends Tier List
All champion tier lists will be put into different categories based on their factions. Specific game-modes will be also mentioned.
Note: 
CB (+T6) = Giantslayer/Warmaster
Take this RAID Tier list with a grain of salt. It also depends on the team composition and other elements to determine how good a Champion is.
Banner-Lords
High Elves
Sacred Order
Barbarians
Ogryn-Tribes
Lizardmen
Skinwalker
Orcs
Demonspawn
Undead Hordes
Dark Elves
Knight Revenant
Dwarves
Tier List Explanation
One of the finest games ever created by the master himself, RAID: Shadow Legends has been able to generate a massive fan base in a limited timeframe. First glance at the game and you will be able to figure out the high-quality graphics and design ideas that have integrated along with mechanics that are worth praising. Although the reason behind its huge success is not just the traits mentioned above but a plethora of things that have been utilized to make this game what it is today.
Being a renowned gaming developing company, Plarium has been able to provide the world with a number of exciting games that have given the company a high reputation. Keeping their reputation intact, even this time they have managed to come up with something that has not just help their popularity but has created an even bigger circle of gamers. With games like Vikings, soldier, terminator Genisys, Total domination, etc. there's no way they are going down in the near future. Their headquarter sits in Herzilya but have a number of services to Russia, US, Ukraine and even in the United Kingdom.
Know who are the best Champions with the Tier List!
As the game commences, you are introduced to the entire idea of the game RAID: Shadow Legends and what can you expect out of it. You are taken through an entire tutorial which takes hardly a few minutes. You get to meet the four champions that are the protagonists of the game and you are pair up with them and fight battles. You get to kill people and fight combats like a hero. However, as the proceeds, a dragon shows up and kills your champions and you are left alone to handle the rest of the game. You might grow fond of your companions but keeping a strong heart is what will take you further.
When these four champions die, one of them screams something about the arbiter that you meet next. The arbiter turns to be a redhead who asks you to choose one of these four champions that had died earlier. Once you do that, you get to hear the rest of the plot through her.
The world where the entire game is based is known as Teleria that is being destroyed by evil forces and their leader who wants to spread darkness and sadness all over the place through war and crime. The evil forces have created a so-called shadow from the eastern end and the player that will be you have to help the arbiter to save the world from falling apart. The redhead has been doing her part but her energy and power are fading away and she needs a strong companion to join with her in the battle. The Arbiter also offers to restore just one of the four champions that you have to choose and their soul will be remade.
This list is built based on different game-modes 
The moment you choose the champion that you want to restore, you are taken to the base which is called the Bastion. Here, you are required to plan the entire battle and the actions that you will have to take in order to defeat the evil. Like any other game, you will be arranging your army, your defenses, and improve your skills. While doing this, you will get to learn a unique but very important that is summoning heroes that will prove very useful to you in the coming battle. You can summon them using the Mystery Shards at the portal.
Mystery Shard: Will let you summon a hero that has unique skills and abilities
Ancient Shard: Summons a champion that is legendary and epic
Void Shard: lets you summon an epic void champion
Sacred Shard: summons a legendary champion
There are a number of champions that you will get to meet and fight along on this battlefield. Some of them are elves, barbarians, Lizardmen, dark elves, orcs, revenant, etc.  You get to play different kinds of battles in the game such as Dungeons, Arena, faction wars, Campaigns, etc. And it is the main idea why we create this Tier List for RAID: Shadow Legends so that everyone can easily see what are the best Champions for each kind of mode in the game!
Once you are done choosing the champion you are going to use first, you are taken to your first battle of the game which will be the beginning of the campaign battle. The battle that you fight would be against King Tayba that was once a very noble king but the shadow and darkness have fallen upon him and his men. You have to defeat his kingdom to get them on your side. When you dig deeper in between the battle, you get to find out the number of treaties and rules that the king had broken and is now imposing high taxes and exploiting people of his own kingdom. On seeing all this, the arbiter asks you to find out the hidden reason behind such turn of events and what made such a noble king turn to darkness.
In order to do this, you will have to enter the castle of the king and raid each and every corner of the place. On your raid, you will meet a number of monsters and scary creatures that will try to kill you and try their best to not let you move forward. As you proceed, you also meet the bosses and reach a bit closer to the truth. The battles that you indulge in are exhausting and will take time to get though. The mechanics of the game are what you will be required to understand.
Understanding Your Champions!
Graphics and visuals being one of the strongest points of the game attract the most gamers. The storyline if a bit different and would take time to understand. However, once you get the hang of it, you are sure to enjoy it. The camera movement of the game is also smooth so that you get to enjoy an even better view of the entire game. There's so much to this game that is beyond description. To get the maximum idea about it, trying it is the best option for you.
Hopefully, you have found our RAID: Shadow Legends Tier List helpful!